Welcome to ULTRA !
ULTRA, founded in the year 1990 by a team of dedicated young social activists with a focus on development justice for the people at the grass roots through a comprehensive package of welfare and development services. ULTRA is registered under the rules and provisions of societies Registration Act XXI of 1860 in the year 1992, Foreign Contribution (Regulation) Act 1976 & Section 12AA & 80G of Income Tax Act 1961, Persons with Disabilities Act 1995, National Trust Act 1999. ULTRA since establishment is on the move throughout with new challenges, commitments and hopes...Read More
News & Events
Building constructed by BRT-53 Bhubaneswar in the school premises. Sri. Harish Shenoy National Vice President of Round Table India and Sri. Abhisek Gupta, Chairman, BRT-53, inagurated the building on 22.06.2013
ITER College students visited the school and distributed prizes, play equipments, mosquito nets, dress materials among the students.
Sri. Sanyasi Pradhan, Deputy Secretery to the Govt. of India, Ministry of Social Justice and empowerment, New Delhi observed the proper function of the school as adequate infrastructure is available in the school.
Secretary Says !
I have the pleasure of taking this opportunity of releasing the annual report of Union for Learning Training and Reformative Activities, (ULTRA) Sagarguan depicting its achievements during the year 2012-13. We moved in the line of its vision, mission, goal & action plans as well as fulfillment of its commitments to people's development is reflected... Read More

Gallery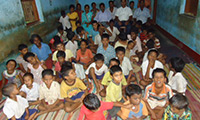 Activities
Welfare of the Disabled
Service for the Aged
Drug De-addiction
Women Empowerment
Agro-Farming
+91-9853342343, +91-9777856296, +91-9778363973